To serve mankind with compassion without any bias towards any race, religion or nationality
DHARMA ALONE GETS RID OF OUR KARMA
Our Latest Events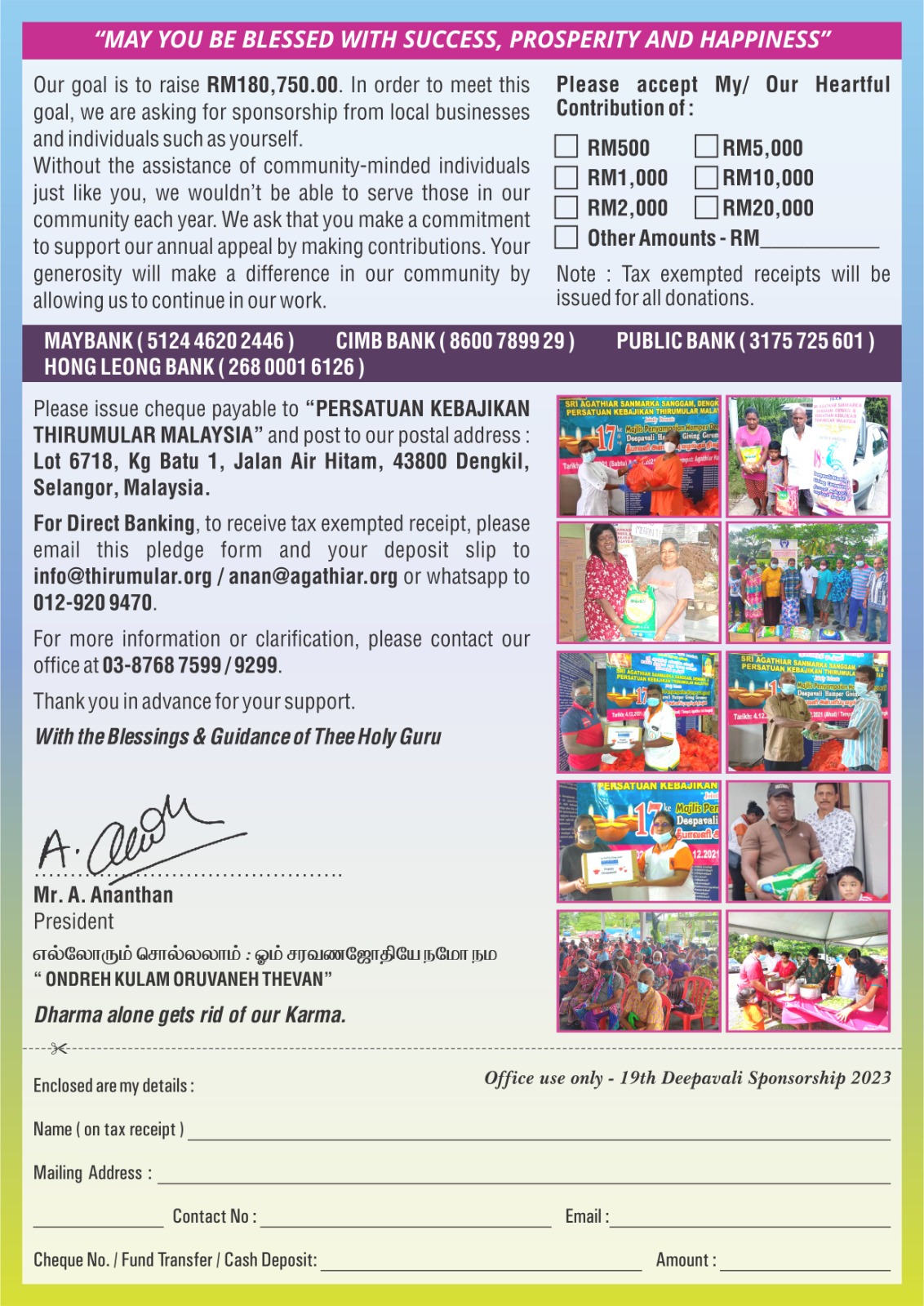 19th Deepavali Annual Charity Event Programme 2023
Deepavali Programme 2023
Quotation of 19th Deepavali Annual Charity Programme 2023
Here is the quotation of the Deepavali Charity Event.
18th Deepavali Annual Charity Event Programme 2022
18TH Deepavali Hamper Giving Ceremony 2022
19th Deepavali Annual Charity Programme 2023
We humbly request for grocery donations or cash/cheque/fund transfers for our Deepavali program. We at this moment request you to be a valuable sponsor of the event and support our cause. You can donate to our association account. Bank Name/Acc. No : Maybank 5124-4620-2446 Cimb : 8600789929 Thank you in advance.
We operates based on the principles of practicing compassion by doing charitable deeds for any person who is
Deprivation of Basic Needs
Quick Links
CONTACT US
DONATE
TERMS & CONDITIONS
​
Terms & Conditions
The www.thirumular.org (the "Website") is expressly owned and operated by Persatuan Kebajikan Thirumular Malaysia who runs and maintains a website that processes donations.
These are the general Terms and Conditions which govern your use of the Website. Please read these Terms and Conditions carefully. If you do not wish to be bound by these Terms and Conditions, you should not continue to use or access the Website.
Persatuan Kebajikan Thirumular Malaysia has absolute discretion to change or update the Terms and Conditions from time to time which will be posted in their Website: www.thirumular.org. You must check for updates whenever you access the Website. The latest version of these Terms and Conditions will govern any usage by you of the Website and its associated services from the date we post the revised version of the Terms and Conditions on the Website.
Refund Policy
Donations made online will not be refunded under any circumstances whatsoever.
PRIVACY POLICY
​
Privacy Policy
www.thirumular.org Privacy Policy forms part of these Terms and Conditions. By agreeing to these Terms and Conditions you also give your consent to the way we may handle your personal information under that Policy. Read our Privacy Policy's Terms and Conditions carefully.
© 2023 Persatuan Kebajikan Thirumular Malaysia